There hasn't been much time to ponder the fun of Brimfield since returning home...but, the laptop now has a new hard drive, the van's expensive repair is complete, the insurance claim is in for the water-damaged hardwood floor, and my stoooooopid 'smart phone' has at long last been replaced by a new iphone.
Finally, there's a moment to reflect on Brimfield. Randomness rules...here goes!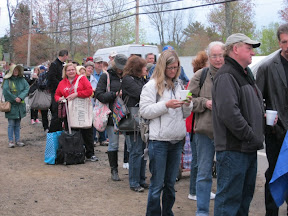 Margaret and I flew in to Hartford on Tuesday and arrived in town just as Brimfield Acres North was opening. Our plan to go straight to the back of the field fell apart as we each spotted something we had to have just after we entered. To say that we were overwhelmed and giddy at the sight of acres of great junk would be a huge understatement.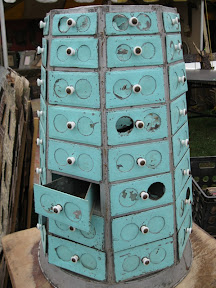 I hadn't been to Brimfield in over a decade and this was Margaret's first time. It was probably a good thing that we flew and could only buy what we could ship. Otherwise we would likely have spent our entire stash the very first day. Wonderments abounded.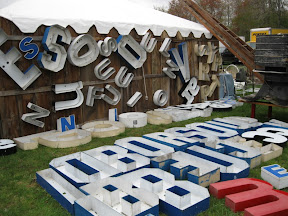 The first thing we learned was to get up early and arrive in Brimfield about 90 minutes before the 'hot' show of the day was opening to get primo parking. Making a quick run to the car now & then to unload makes for easier two-fisted shopping.
Most all the drool-worthy pieces were 'sold'. I loved, loved, loved this piece that sat waiting for pick-up.
It seemed that the majority of dealers don't price their items. I wonder why? I walked away from several things that caught my attention because dealers were flooded with people asking "how much". Who wants to stand around all day just waiting to find out the price of something? Not gonna happen when there is so much to see.
It was fun to meet Tricia from Red Door Antiques. I missed finding most of the others on my list...drat. We did pop in to the fabulous Tweet-Up tent, met some fun folks and admired Lu's work-in-progress.
Packing boxes in a hotel room is hard work. And some post offices close at 4:30 on Friday. (Thanks to the nice peeps at the Ludlow post office for not being mean when we arrived at 4:29 with three huge boxes. Who knew they'd close so early?) Between us we shipped home over 170 lbs. of treasures, and brought over 100 lbs. more back in our luggage.
We had a fun chat with Palmer from Ruby Lane, (and those great bags he gave us came in so handy - thanks Palmer!) Here's Margaret doing a little spot for his video.
The food at the New England motel and just across the road really is good. Lobster rolls, ceaser salad pita, ribbon fries, ice cream. Finding a table and taking a break mid-day is essential.
Porta potties stink and, (most), potty patronizing men really are pigs. We discovered the 'secret potties' the second day we were there and revisited them often. Tucked away, they were much less disgusting than most.
We had to go to Massachusetts to find these very cool 1940's folk-art boxes from Wisconsin.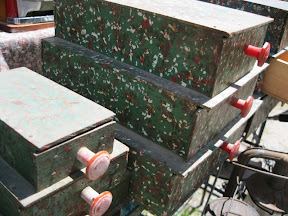 This one's for my bud Tamarah in Australia. Weren't you looking for these at JB last year?
I still love "my" shades of blue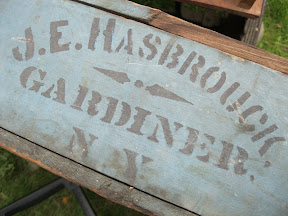 This old gal was headed to her new home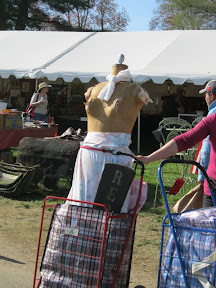 After 3 1/2 full days of shopping, we hadn't seen but a fraction of Brimfield.
Great merchandise was everywhere, the weather was decent, most other dealers and shoppers were pleasant and the trip just couldn't have been any better. I can't wait to return, soon!